Last Updated: August 13, 2023
Siesta Breakers #603 Crescent Beach Condo Rental Rate Links
Home | Contact & Reservations | Deals At-a-Glance | Payment Options | Rental Rates - Deals - Availability | Rental Availability Calendar | Property Description | Unit & Resort Amenities
Photo Gallery | Terms, Conditions & Restrictions | Map & Location | Crescent Beach Condo Rental Rate Links | Site Map
Siesta Breakers #603 Gulfside
2BR-2BA – Updated – Gulf of Mexico, Crescent Beach & Pool View – 6 Guests
6th Floor – 1,265 Square Feet – 250 Feet to Crescent Beach
Midnight Cove #532 Bayside
2BR-1½BA – Updated – Lagoon, Bayside Pool & Boat Docks View – 4 Guests
3rd Floor – 860 Square Feet – 800 Feet to Crescent Beach
Midnight Cove #714 Bayside
2BR-1½BA – Updated – Lagoon & Boat Docks View – 4 Guests
1st Floor – 860 Square Feet – 950 Feet to Crescent Beach
We receive many rental inquiries, and also referral requests, so we have taken the time to create this condo rental resource for those of you searching for a vacation rental in Siesta Key. All URL links have been verified as of March 13, 2023.

If we don't have the rental availability that you are inquiring about, or if you just wish to compare the rather excellent Direct-with-Owner "All-In Price" 15% to 30% DISCOUNTED RENTAL RATES offered at our 3 Siesta Key condos, with the rental rates that are being offered by the rental offices of 63 condominiums in Siesta Key, below are telephone numbers, minimum rental periods, and links to the rental rate pages on the websites of those condominiums, sorted from The Village in the north, to Siesta Beach, along Crescent Beach, and ending in the south, at Point of Rocks.

Condominiums without websites are not listed. Remember to add all of those annoying various fees and taxes to the rental rates on the websites before you do your comparison of rental rates.

38 Crescent Beach Gulfside Condo Links (includes 1 Siesta Breakers Owner rental ad links)
16 Crescent Beach Bayside Condo Links (includes 2 Midnight Cove Owner rental ad links)
12 The Village & Siesta Beach Condos
The Village & Siesta Beach Condominiums
The Beach Place
5605 Avenida Del Mare
Siesta Key, FL 34242
Telephone: 941.346.1745 & 1.800.615.1745
Website: www.siestakeybeachplace.com
Minimum Rental: Less than 5 nights if 30 Days Prior to Arrival & 1 Week Minimum During Prime Season

Flamingo House
129 Avenida Veneccia
Siesta Key, FL 34242
Telephone: 941.349.5500 & 1.877.482.5550
Website: www.facebook.com/TheFlamingoHouse
Minimum Rental: 1 Week

Tropical Breeze Resort
140 Columbus Boulevard
Siesta Key, FL 34242
Telephone: 941.349.1125 & 1.800.300.2492
Website: www.tropicalbreezeinn.com
Minimum Rental: 1 Night

Whispering Sands Condominium Association, Inc.
200 Whispering Sands Drive
Siesta Key, FL 34242
Telephone: 941.349.8458
Website: www.whisperingsandssarasota.com
Minimum Rental: 2 Months

Siesta Beach Resort Hotel & Suites
5311 Ocean Boulevard
Siesta Key, FL 34242
Telephone: 941.349.3211 &1.800.223.5786
Website:
Minimum Rental: 1 Night

Siesta Key Banyan Tree Resort and Vacation Rentals
378 Canal Road
Siesta Key, FL 34242
Telephone: 941.346.0651 &1.800.732.7231
Website: www.siestakeybanyanresort.com
Minimum Rental: 3 Nights & 1 Week Feb 1 to Apr 30 (Saturday to Saturday)

Siesta Sands on the Beach
118 Beach Road
Siesta Key, FL 34242
Telephone: 941.349.1929
Website: www.siestasands.com
Minimum Rental: 1 Night & 1 Week Feb 1 to Mar 31 (Saturday to Saturday)

The Ringling Beach House on Siesta Key
523 Beach Road
Siesta Key, FL 34242
Telephone: 941.349.1236
Website: www.theringlingbeachhouse.com
Minimum Rental: 2 Night, 3 Nights for Reservations starting Fri or Sat (except Sep 15 to Dec 15 excluding holidays) & 1 Week Dec 20 to Apr 26

Tivoli by the Sea Resort
625 Beach Road
Siesta Key, FL 34242
Telephone: 941.349.5544
Website: www.tivolisiestakey.com
Minimum Rental: 1 Week (Saturday to Saturday)

Crescent Royale
777 Beach Road
Siesta Key, FL 34242
Telephone: 941.349.7766 & 1.800.870.9199
Website: www.crescentroyale.com
Minimum Rental: 1 Week

La Siesta Condominiums
909 Beach Road
Siesta Key, FL 34242
Telephone: 941.349.6454
Website: www.lasiestacondos.com
Minimum Rental: 1 Week

Our House at the Beach
1001 Beach Road
Siesta Key, FL 34242
Telephone: 941.349.1431
Website: www.ourhouseatthebeachsiestakey.com/
Minimum Rental: 1 Week

Crescent Beach Gulfside Condominiums
Gulf & Bay Club
5730 Midnight Pass Road
Siesta Key, FL 34242
Telephone: 941.349.3000
Website: www.gulfandbayclub.com
Minimum Rental: 1 Month

Jamaica Royale
5830 Midnight Pass Road
Siesta Key, FL 34242
Telephone: 941.349.1800 & 1.888.981.1800
Website: www.Jamaicaroyale.com
Minimum Rental: 1 Week

Beachaven
5858 Midnight Pass Road
Siesta Key, FL 34242
Telephone: 941.349.4383
Website: www.siestakeybeachaven.net
Minimum Rental: 2 Weeks

Gulf Haven
5860 Midnight Pass Road
Siesta Key, FL 34242
Telephone: 941.349.2383
Website: www.gulfhavencondo.com
Minimum Rental: 1 Month

Sarasota Surf & Racquet Club
5900 Midnight Pass Road
Siesta Key, FL 34242
Telephone: 941.349.2200 & 1.800.237.5671
Website: www.sarasotasurf.com
Minimum Rental: 3 Nights

Siesta Beach House
5950 Midnight Pass Road
Siesta Key, FL 34242
Telephone: 941.349.2233
Website: www.siestabeachhouse.net
Minimum Rental: 1 Week

Palm Bay Club
5960 Midnight Pass Road
Siesta Key, FL 34242
Telephone: 941.349.1911 & 1-800.725.6229
Website: www.palmbayclub.com
Minimum Rental: 3 Nights

Casa Mar Condo Resort
6006 Midnight Pass Road
Siesta Key, FL 34242
Telephone: 941.349.4266
Website: www.casamarresort.net
Minimum Rental: 1 Week

Aloha Kai Siesta Key
6020 Midnight Pass Road
Siesta Key, FL 34242
Telephone: 941.349.5410
Website: www.alohakaisiestakey.com
Minimum Rental: 1 Week

Peppertree Bay Club
6056 Midnight Pass Road
Siesta Key, FL 34242
Telephone: 941.349.7777
Website: www.peppertreebay.com
Minimum Rental: 1 Month

Horizons West
6140 Midnight Pass Road
Siesta Key, FL 34242
Telephone: 941.349.3555
Website: www.horizonswestsiestakey.com
Minimum Rental: 1 Week

Island House Beach Resort
6150 Midnight Pass Road
Siesta Key, FL 34242
Telephone: 941.349.6101 & 1.877.349.6101
Website: www.islandhousebeachresort.com
Minimum Rental: 1 Week

The Casa Blanca
6154 Midnight Pass Road
Siesta Key, FL 34242
Telephone: 941.349.5101 & 1.877.349.5101
Website: www.thecasablanca.net
Minimum Rental: 5 Nights

Siesta Dunes Condominiums
6200 Midnight Pass Road
Siesta Key, FL 34242
Telephone: 941.346.0210 & 1.800.
Website: www.siestadunes.com
Minimum Rental: 1 Week May 1 to Jan 15 & 2 Weeks Jan 16 to Apr 30

Excelsior Beach to Bay Condominiums
6263 Midnight Pass Road
Siesta Key, FL 34242
Telephone: 941.349.2001
Website: www.excelsiorcondos.com
Minimum Rental: 2 Weeks

Crystal Sands
6300 Midnight Pass Road
Siesta Key, FL 34242
Telephone: 941.349.7007 & 1.888.419.1446
Website: www.crystalsandsonsiestakey.com
Minimum Rental: 2 Weeks & 1 Week Jun to Sep

Crescent Arms
6308 Midnight Pass Road
Siesta Key, FL 34242
Telephone: 941.349.4171 & 1.800.349.4070
Website: www.crescentarmsrentals.com/accommodations
Minimum Rental: 1 Week

El Presidente Condominiums, Inc.
6326 Midnight Pass Road
Siesta Key, FL 34242
Telephone: 941.349.5333 & 1.888.426.8226
Website: www.elpresidentecondo.com
Minimum Rental: 1 Week (Saturday to Saturday)

Siesta Royale
6334 Midnight Pass Road
Siesta Key, FL 34242
Telephone: 941.349.4014
Website: www.siestaroyale.com
Minimum Rental: 5 Nights

Midnight Cove – Gulf Side
6342 Midnight Pass Road
Siesta Key, FL 34242
Telephone: 941.349.3004 & 1.800.469.3004
Website: www.midnightcove.com
Minimum Rental: 1 Week & 2 Weeks Mar 1 to 29

Sandpiper Beach Club
6414 Midnight Pass Road
Siesta Key, FL 34242
Telephone: 941.346.0922
Website: www.sandpiperbeachclub.com
Minimum Rental: 1 Week (Saturday to Saturday)

Siesta Sun Beach Villas
6424 Midnight Pass Road
Siesta Key, FL 34242
Telephone: 941.349.8233 & 1.888.556.3577
Website: www.siestasun-beachvillas.com/
Minimum Rental: Less than 1 Week Available

Siesta Breakers
6480 Midnight Pass Road
Siesta Key, FL 34242
39 Links to Siesta Breakers condo rentals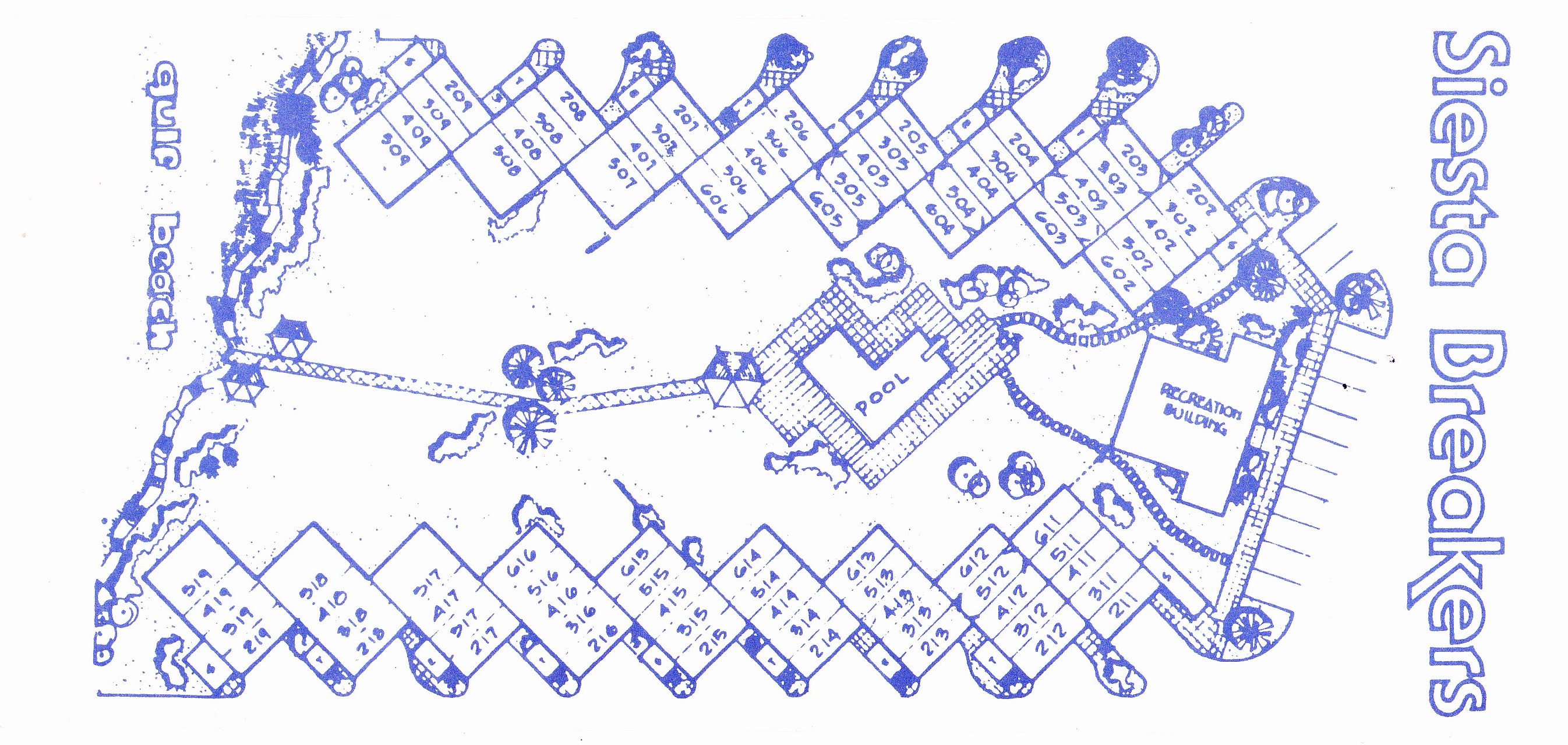 Siesta Breakers #603
Direct-with-Owner
Sun, Sand & *SAVE 15% to 30% per Week*
3% Cash Discount on No Fee Deposits (100% only)
$100 per week for each additional person over Standard Occupancy of 4 guests
$100 premium during Independence Day week
Best Rental Rates offered at Siesta Breakers
E-mail: alwaysflorida@gmail.com
Website: www.siestabreakers603.com
Minimum Rental: 1 Week (Saturday to Saturday)
Credit Cards (Visa, MasterCard, AMEX & Discover) - Debit Cards - PayPal (Visa, MasterCard, AMEX, Discover & e-Check) – Zellepay
2BR-2BA – Updated – Gulf of Mexico, Crescent Beach & Pool View – 6 Guests
Washer & Dryer: Yes

Siesta Breakers Condominium Association Inc
10% Discount on 1 Month Rentals
15% Discount on 2 Month Rentals
20% Discount on 3 Month Rentals
$100 per week for each additional person over Standard Occupancy of 4 quests
$100 per reservation for security personnel certain times of the year
Siesta Breakers Rental Office Telephone: 941.349.6505 & 1.800.853.0999
Website: www.siestabreakers.com
Minimum Rental: 1 Week


Crescent Siesta Key
6512 Midnight Pass Road
Siesta Key, FL 34242
Telephone: 941.346.0632
Website: www.crescentsiestakey.com
Minimum Rental: 1 Week & 1 Month Jan 1 to Apr 30

House of the Sun
6518 Midnight Pass Road
Siesta Key, FL 34242
Telephone: 941.349.4141 & 1.800.618.6948
Website: www.siestakeyhos.com
Minimum Rental: 1 Week

Calini Beach Club
1030 Seaside Drive
Siesta Key, FL 34242
Telephone: 941.349.2500 & 1.800.851.1096
Website: www.calinibeachclub.com/
Minimum Rental: 1 Week

Sea Crest on Siesta Key
1129 Seaside Drive
Siesta Key, FL 34242
Telephone: 941.349.4200 & 1.800.830.5678
Website: www.seacrestonsiestakey.com
Minimum Rental: 3 Nights

Crescent Towers
1035 Seaside Circle
Siesta Key, FL 34242
Telephone: 941.349.2100 & 1.888.233.9877
Website: www.crescenttowers.com
Minimum Rental: 1 Week & 3 Nights 60 Days Prior to Arrival

The Capri at Siesta
6782 Sara Sea Circle
Siesta Key, FL 34242
Telephone: 941.684.3244 & 0011.1.941.684.3244
Website: www.capriinternational.com
Minimum Rental: 1 Night

Sea Club V
6744 Sara Sea Circle
Siesta Key, FL 34242
Telephone: 941.349.1176 & 1.800.475.1176
Website: www.seaclubv.com
Minimum Rental: 1 Week

Conclare
6738 Sara Sea Circle
Siesta Key, FL 34242
Telephone: 941.349.2322 & 1.800.584.1138
Website: www.conclare.com
Minimum Rental: 2 Nights

Tropical Shores Beach Resort
6717 Sara Sea Circle
Siesta Key, FL 34242
Telephone: 941.349.3330 & 1.800.235.3493
Website: www.tropicalbeachresorts.com/
Minimum Rental: 1 Night

Tropical Sun Beach Resort
6717 Sara Sea Circle
Siesta Key, FL 34242
Telephone: 941.349.3330 & 1.800.235.3493
Website: www.tropicalbeachresorts.com
Minimum Rental: 1 Night

Sara Sea Beach Resort
6717 Sara Sea Circle
Siesta Key, FL 34242
Telephone: 941.349.3330 & 1.800.235.3493
Website: www.tropicalbeachresorts.com
Minimum Rental: 1 Night

Siesta Key Inn
1017 Point of Rocks Road
Siesta Key, FL 34242
Telephone: 941.349.4999 &
Website: www.siestakeyluxuryrentalproperties.com/siesta-key-inn/
Minimum Rental: 3 Nights & 1 Week Jan 1 to Apr 30

Siesta Palms by the Beach
1017 Point of Rocks Road
Siesta Key, FL 34242
Telephone: 941.349.4999 &
Website: https://www.siestapalmsbythebeach.com/
Minimum Rental: 3 Nights & 1 Week Jan 1 to Apr 30


Crescent Beach Bayside Condominiums
White Sands Village
5629 Midnight Pass Road
Siesta Key, FL 34242
Telephone: 941.349.5600 & 1.800.944.5629
Website: www.whitesandsvillage.com
Minimum Rental: 2 Weeks

Gulf & Bay Club Bayside
1200 Siesta Bayside Drive
Siesta Key, FL 34242
Telephone: 941.346.3499 & 1-800.349.6156
Website: www.gulfandbaybayside.com
Minimum Rental: 1 Month

Harbor Towers
5855 Midnight Pass Road
Siesta Key, FL 34242
Telephone: 941.349.7600
Website: www.harbortowers.net
Minimum Rental: 2 Weeks

Sea Club II
5955 Midnight Pass Road
Siesta Key, FL 34242
Telephone: 941.349.0760 & 1.800.626.0258
Website: www.seaclub2.com
Minimum Rental: 1 Week Jan 1 to Apr 30 & 5 Nights May 1 to Dec 31

Palm Bay Club
5960 Midnight Pass Road
Siesta Key, FL 34242
Telephone: 941.349.1911 & 1.800.725.6229
Website: www.palmbayclub.com
Minimum Rental: 3 Nights

Horizons West
6140 Midnight Pass Road
Siesta Key, FL 34242
Telephone: 941.349.3555
Website: www.horizonswestsiestakey.com
Minimum Rental: 1 Week

Peppertree Bay Club
6056 Midnight Pass Road
Siesta Key, FL 34242
Telephone: 941.349.7777
Website: www.peppertreebay.com
Minimum Rental: 1 Month

Bay Oaks Condominiums
6157 Midnight Pass Road
Siesta Key, FL 34242
Telephone:
Website: www.bayoaksonsiestakey.com
Minimum Rental: 1 Week

Polynesian Gardens
6201 Midnight Pass Road
Siesta Key, FL 34242
Telephone: 941.349.5427
Website: https://www.polynesian-gardens.com/
Minimum Rental: 2 Weeks & 1 Month Jan 1 to Mar 31

Excelsior Beach to Bay Condominiums
6263 Midnight Pass Road
Siesta Key, FL 34242
Telephone: 941.349.2001
Website: www.excelsiorcondos.com
Minimum Rental: 2 Weeks

Siesta Harbor
6289 Midnight Pass Road
Siesta Key, FL 34242
Telephone: 941.349.2949
Website: www.siestaharbor.net
Minimum Rental: 1 Month

Midnight Cove II
6327 Midnight Pass Road
Siesta Key, FL 34242
Telephone: 941.349.2428 & 1.888.349.7475
Website: www.midnightcoveii.com
Minimum Rental: 1 Week

Midnight Cove - Bayside
6302 Midnight Cove Road
Siesta Key, FL 34242
92 Links for Midnight Cove condo rentals





Midnight Cove #532
Direct-with-Owner
Sun, Sand & *SAVE 12.5% to 27.5% per Week*
3% Cash Discount on No Fee Deposits (100% only)
Best Rental Rates offered at Midnight Cove
6304 Midnight Cove Road
Siesta Key, FL 34242
E-mail: alwaysflorida@gmail.com
Website: www.midnightcove532.com
Minimum Rental: 1 Week (Saturday to Saturday)
Credit Cards (Visa, MasterCard, AMEX & Discover) - Debit Cards - PayPal (Visa, MasterCard, AMEX, Discover & e-Check) – ZellePay
Building #5 – Firethorn Unit – 2BR-1½BA – Updated – Lagoon, Bayside Pool & Boat Docks View – 4 Guests
Washer & Dryer: Yes

Midnight Cove #714
Direct-with-Owner
Sun, Sand & *SAVE 12.5% to 27.5% per Week*
3% Cash Discount on No Fee Deposits (100% only)
Best Rental Rates offered at Midnight Cove
6350 Midnight Cove Road
Siesta Key, FL 34242
E-mail: alwaysflorida@gmail.com
Website: www.midnightcove714.com
Minimum Rental: 1 Week (Saturday to Saturday)
Credit Cards (Visa, MasterCard, AMEX & Discover) - Debit Cards - PayPal (Visa, MasterCard, AMEX, Discover & e-Check) – ZellePay
Building #7 – Firethorn Unit – 2BR-1½BA – Updated – Lagoon & Boat Docks View – 4 Guests

https://www.midnightcove.com/rental-info/midnight-cove-rates Midnight Cove Realty Inc
No Discounts Offered
10% premium during month of April, Independence Day, Xmas & New Years weeks
6302 Midnight Cove Road
Siesta Key, FL 34242
Rental Office Telephone: 941.349.3004 & 1.800.469.3004
Website: www.midnightcove.com
Minimum Rental: 1 Week & 2 Weeks Mar 1 to 29

The Anchorage Yacht & Tennis Club Condo
6415 Midnight Pass Road
Siesta Key, FL 34242
Telephone: 941.349.4030 & 1.866.500.4030
Website: www.the-anchorage.com
Minimum Rental: 1 Week